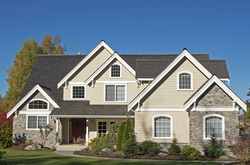 Asphalt shingles are the most common type of roofing. And like all types of roofing material, they must meet certain standards. They must possess a certain degree of resistance to puncture, softening and tearing. They must also meet other standards, such as waterproofing, fire resistance and resistance to nail pull through as well as how well they perform in wind.
Organic asphalt shingles should meet ASTM D225, "Standard Specification for Asphalt Shingles (Organic Felt) Surfaced With Mineral Granules."
Fiberglass asphalt shingles should meet ASTM D3462, "Standard Specification for Asphalt Shingles Made from Glass Felt and Surfaced with Mineral Granules."
These standards vary by geography and may be set by either government or the industry itself. There are a number of different tests that shingles and other roofing material must pass in order to be placed on the market. There are tests for penetration and for softening, waterproofing and wind resistance. There are also tests for tear propagation, granular adhesion, pliability, resistance to abrasion and fire resistance.
All the above tests and others are to ensure that shingles meet certain manufacturing standards that exist throughout the industry. Although the perception is that asphalt shingles can be tested at any time up to installation, certain measures of performance can be changed by long term storage. So, it's important to test within a reasonable time after the shingles have been manufactured.
Also, tests should be carried out on a number of different shingles in a give batch, not just one or two. It's inappropriate to test only a single shingle and then draw conclusions from it.
Standards are increasing. Building codes often require that an evaluation report be issued regarding certain products that go into constructing a new building or repairing of older structures, and that these products be tested by an independent third party for code compliance. Contractors have also been asking for better performance testing and higher standards for certification. This has been answered by new industry regulations that set higher standards for product performance. All this reflects the high level of responsibility taken by reputable contractors and assures both the property owners and contractors that the products installed on the property are code compliant.
There are two major series of tests that are named after the organizations doing the testing. These are the ASTM Tests and the ICC Evaluation Services Tests. Each of these services has slightly different requirements and performs different tests regarding the same basic criteria. ICC Evaluation Services tests do go beyond the traditional physical requirements of the ASTM standards.
ICC Evaluation Services has developed somewhat different criteria than the ASTM standards that are normally referenced in building codes.
Roofing manufacturers are constantly developing new products or modifying products that are already on the market and submitting them for evaluation and testing. It's reassuring to know that the standards set by the industry and by building codes make certain that these new or updated products meet the highest standards of safety and performance.
©
www.RoofingGiant.com